quality glass splashback installation Gympie
If you are in the process of renovating or building your Gympie home and want to add a stunning finishing touch to your bathroom ,ktichen, or laundry, then our glass splashbacks are the answer!

As the trusted splashback installers in Gympie, we have been designing and installing bespoke glass splash backs for years. All of our splashbacks are 100% made-to-measure and locally sourced and manufactured in Australia, meaning you can be assured that you are getting the absolute best quality products possible. Whether you need printed, mirrored, or coloured, we have an option that is perfect for no matter what design style and specification you need.

Our quality splashbacks are durable, easy to clean, and make any home look stunning. We have a variety of designs, colours, and prints to choose from. We create and install them for both residential and commercial properties.
Why choose our glass splashbacks?
Incredibly high quality, durable, and longlasting glass materials
Wide range selection of prints, colours, and designs
All of our kitchen splashbacks are made custom to design and DIY installation
Heat-resistant so they wont warp, crack, melt, or split
Designed to be mould-resistant, grout free, and very easily cleanable
CLICK TO CALL!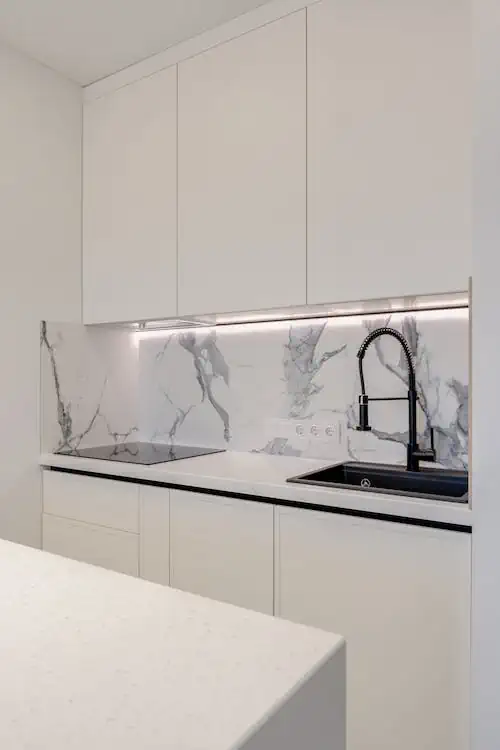 Kitchen splashbacks Gympie
Designed to be suited for all types of Australian kitchens, our kitchen glass splashbacks are a perfect way to bring your kitchen to life. There are endless reasons to choose splashbacks over tiles in your home. They are easier and faster to install, less upkeep and maintenance, and much more control over the design and style. If you are looking for an affordable way to bring your kitchen to life, then our glass splashback installation service is perfect for you!
Coloured glass splashbacks
If you are looking for a perfect way to match your current kitchen's aesthetic or add contrast between your appliances, hardware, and perosnal style, then our coloured glass splashbacks are the perfect choice. With matte and gloss finishes as options, our splashback installers will immaculately fit your new splashback into your location of choice.
Printed glass splashbacks
In amazing visual detail and breathtaking beauty, our printed glass splashbacks can take any image and capture its essence on glass. Using industry-leading technology, our installers can flawleslly install a printed splashback that will literally transform your kitchen or bathroom into something amazing.
Mirrored glass splashbacks
Our mirrored glass splashbacks are perfect for creating a sense of spaciousness in your home, very popular in tighter spaces and smaller kitchens. With a selection of different finishes, you can speak to our team about what colours will best suit your exisiting area.
Need glass splashback installation IN Gympie?
CALL US NOW FOR A FREE QUOTE
07 5241 1002